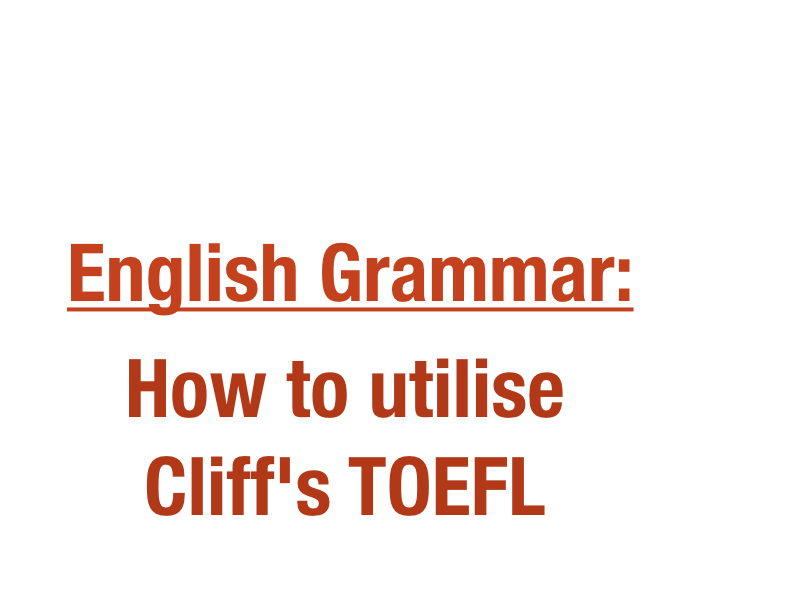 Cliff's TOEFL is one of the most important books for Grammar in the competitive exams. This book will mostly help you to solve the sentence correction problems and acquire an overall understanding of grammar that boosts both your confidence and your score in the admission test. Now, since you want to pursue an MBA, it's quite clear that you want to become successful managers in future. Now managers often have to set priorities of their works and be very alert and smart while taking decisions. The question pattern of IBA MBA Admission Test is set to judge a candidate's priority setting and decision taking capabilities. The most interesting thing is, this test actually starts way before the admission test. It starts right from the day a person decides that s/he would start preparing for this exam. People who are smarter in setting priorities about what to study first and what to study later will eventually have a better probability to get into IBA.
Now since sentence correction problems carry almost 15-20% marks in the English section, you got to be serious about it. You should practice these from Official GMAT Review but without the knowledge of some basic grammar, you won't understand them well. Thus, you have to become an expert in CLIFFS TOEFL first. Those who will finish this book with proper understanding, s/he will surely be the ultimate beneficiaries.
Sentence correction problems are not as tough as it looks. If you study consciously, you will see that they mostly contain 5-6 types of common errors. These are subject-verb agreement error, pronoun error, parallelism error, meaning and concision error, comparison errors, dangling modifier error etc. You have to become an expert in finding these errors in a sentence. Thus, you will be able to eliminate 3-4 options quite easily which will increase your chance to score. Now, to become a boss in finding these errors, you have to be a boss in certain grammatical topics which are arranged very nicely in CLIFFS TOEFL. These should be the topics in which you have to give maximum priority and you just cannot mess with these. So here you go (The page numbers are from the 2014 edition):
– Count and Non-Count Nouns (Pg. 44)
– The whole Tense part if you have problems in it (Pg. 54-67)
– Subject-verb agreement (Pg. 68-76)
– Pronouns (Pg. 78-81)
– Verbs as complements ( Pg. 83-89)
– The verb Need (Pg. 90-91)
– Affirmative Agreement (pg. 98)
– Negative Agreement (Pg. 100)
– Conditional Sentences ( Pg. 114-132)
– Comparisons ( Pg. 138-147)
– Cause Connectors (Pg. 153-156)
– Passive Voice (Pg. 167)
– Relative Clauses (Pg. 174-180)
– Inclusive (Pg. 185-187)
– Clauses of Concession (Pg. 189-190)
These are the parts that you should study first. Finish these and then go to the remaining parts of this book. I hope you'll be benefited by this process.